1. Cai Rang Floating Market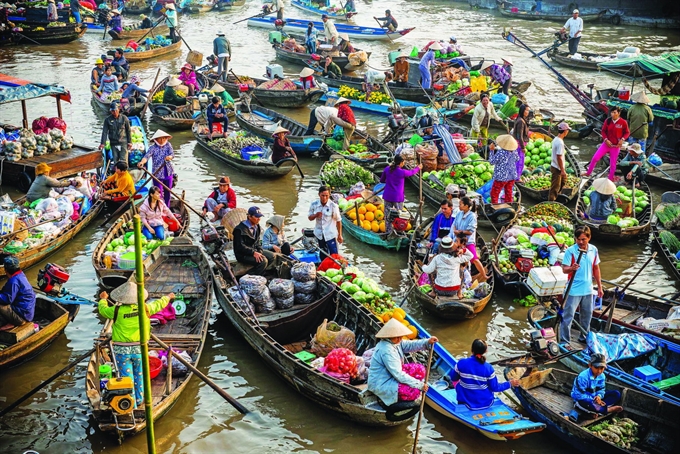 (Soure: vntrip.vn)
Cai Rang floating market is one of the most famous and biggest floating markets in the Mekong Delta. It is also a living museum of the southern traditional culture that has been fostered by the Mekong Delta's interlacing waterway systems. The market is on the Cai Rang river. It is five kilometers by road from the centre of Can Tho. It is a wholesale market, selling fruits, vegetables and other agricultural products from Can Tho city as well as from 13 neighboring provinces in the Mekong Delta region.
Address: Cai Rang Bridge, Cai Rang District, Can Tho City. About 6 km from Can Tho city center.
---
2. Ninh Kieu Wharf
It is about 500 meters from the center. Ninh Kieu Park is large and spacious, planted with many beautiful ornamental trees, the highlight of green grass growing and weaving among white cement panels and the statue of Uncle Ho with 7.2m high bronze. It is the center park for mental and physical activities of local people. There are some side spots around like night markets, old markets, floating restaurants, plenty of restaurants and sky bars, hotels, local shops, convenience stores and even the travel agents.
Address: Hai Ba Trung Street, Tan An Ward, Ninh Kieu District, Can Tho City. The wharf runs from the Ninh Kieu walking bridge to Tan An fruit market area.
---
3. Binh Thuy Ancient House
The Binh Thuy French-style house, the privately owned house, was built in 1870 by the Duong family and still managed by the eighth generation. The house was famously used in the 1992 movie "L'Amant" ("The Lover") based on the novel of the same name by French author Marguerite Duras, directed by Jean Jacques Annaud, telling the story of a young Marguerite Duras and her lover Huynh Thuy Le, set during Indochina times.
Address: 144 Bui Huu Nghia Street, Binh Thuy District, Can Tho City. About 6km from Can Tho city center.
(Source: vemekong.com)
4. My Khanh Tourist Village
Visiting My Khanh Tourist Village, visitors in Vietnam can experience the old days of southern life by taking on the costume (rental service) of a rich landlord who lived in a big house or of a normal traditional farmer to feel the difference. As a rich landlord, you can enjoy fruit, hot tea and listen to music from a hand-operated gramophone made more than 300 years ago. As a farmer, you are given the opportunity to work and prepare meals as southern farmers did in the past.
Address: 335 Lo Vong Cung Street, Phong Dien District, about five kilometers from Can Tho City by road or river.
(Source: vemekong.com)
5. Can Tho Beach
The locals clearly enjoy spending time there in the afternoon and evening, sitting in one of the cafes at the beach, enjoying the relaxed atmosphere, great views of Can Tho bridge and local boats along the Hau river or using some of the water activities like jet ski or the boat ride, while kids were playing in the freshwater. Top tip: Freshwater beach and a bit muddy, but it is fun and safe to make "a swim of your life in the magic Mekong river.
Address: Cai Khe Ward, Ninh Kieu District, Can Tho City.
Can Tho Beach at night (Source: vntrip.vn)
6. Can Tho Museum
The museum, with ample English translations, exhibits Can Tho historical relics about cultures and inhabitants in Can Tho through historical periods, native plant and fish specimens, rice production achievements of three main ethnic minorities: Kinh (Viet), Hoa (Chinese Vietnamese) and Khmer during the process of nation building and national defense and development, which has resulted in today's beautiful Tay Do land.
Address: on the corner of Hoa Binh and Tran Quoc Toan streets.
(Source: vntrip.vn)
7. Can Tho Fruit Garden
Fruit is seasonal. If you really look for a beautiful fruit garden, you should plan to see it during the wet season. When the rain comes, the flowers blossom and the yummy fruit grows. Top tip: It is prettier to see the garden in the morning.
Boat, bike, scooter, and car are some means of transportation to reach the Can Tho fruit garden. It just depends on your styles and how much time you have. Because the garden is in the countryside and the small road you go to, the authentic garden you will see. As a local, we prefer taking a small boat, sampan or bicycle to go. Top tip: Making a ride of your life around the Mekong canal and fruit garden by bike or scooter is a great and amazing trip.
Address: There are many fruit gardens in Cai Rang, Phong Dien floating market. About 10km to 20km from Can Tho city center.
(Source: vntrip.vn)
8. Bang Lang Stork Garden - Can Tho Bird Sanctuary
This is a home to over 20 species of birds, 10 species of storks with the population standing at more than 10 thousand. It is one of the largest sanctuaries in the Mekong river Delta. In the past, the stork garden was a rice farm which is surrounded with mango trees, Bang Lang trees and the shade of coconut trees. In 1983, there were about 200 storks gathered around there and settled on his field. Because the owner is a nature-loving farmer, he did not annoy them to run away by any traps or poisons. On the contrary, he wanted to protect and help all of them such as: planting a lot of bamboo trees as a warm home for them. In 1994, numerous birds and species of storks from everywhere flock more and more. Top tip: This garden is still under control by the locals.
Address: It is in Thuan An Ward, Thot Not District, 45km from Can Tho City in the direction of the national high No. 91 towards Long Xuyen City, An Giang Province.
(Source: vemekong.com)
9. Can Tho Night Market – Ninh Kieu Night Market
It is divided into two zones. The first one (Ninh Kieu night market) sells clothes handicrafts, souvenirs, jewelry, foods, coffee on the pavement…and the other night market zone (coconut market) serves food from dozens of mobile stalls, with vendors who are well versed in the point-and-nod style of ordering. Most of the food can be munched while strolling and is more of a snack than a meal, but what's on offer can change from day to day, so it's best to just go and see what is available. There are some side spots around the night market like a plenty of local restaurants (Vietnamese and your foods), pubs & bars, hotels, local shops, convenience stores, even the travel agents.
Address: 138, Hai Ba Trung street, Ninh Kieu District, Can Tho City.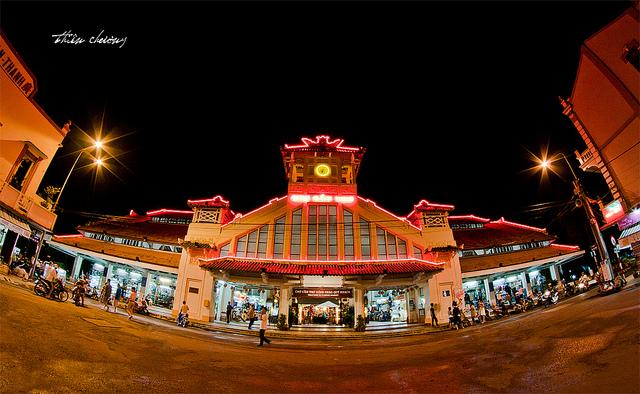 (Source: vntrip.vn)
10. Truc Lam Phuong Nam Zen Monastery
The monastery was built on an area of nearly 4 hectares, started construction on July 16, 2013 and completed after 10 months of construction. On May 17, 2014, the inauguration ceremony of Truc Lam Phuong Nam Zen Monastery was solemnly organized by the Buddhist Board of Can Tho.
The entire building has a tiled roof structure, ironwood pillars, brick walls, floors and walkways. Besides the main hall, the campus is balanced with about 20 work items such as: ancestral house, spacious hall for teaching and studying for about 500 monks, Buddhists, 9-storey stupa, drum tower, bronze bell tower, monks' quarters and guest houses, monasteries, libraries and medicine rooms, water houses, etc., were built around them, forming an architectural complex imbued with cultural and historical significance
Address: 923 Road, My Khanh, Phong Dien District, Can Tho City.
(Source: vntrip.vn)
11. Can Tho Rice Noodle Factory
There are some interesting things about this place. The most amazing thing is the locals still make all fresh noodles in manual ways from mixing, making, drying, cutting noodles, packing…all done by hand. Most tourists are welcome to help make the noodles with the locals. The noodles here are so colorful and super yummy with their home cooked "noodle pizza".
The best time to visit it is before 10 am because if you come after 10 am, you may miss the opportunity to see with your own eyes, experience with your own hands and get noodles. Because at this time, most of the fresh cakes have been left to dry in the sun for the next process.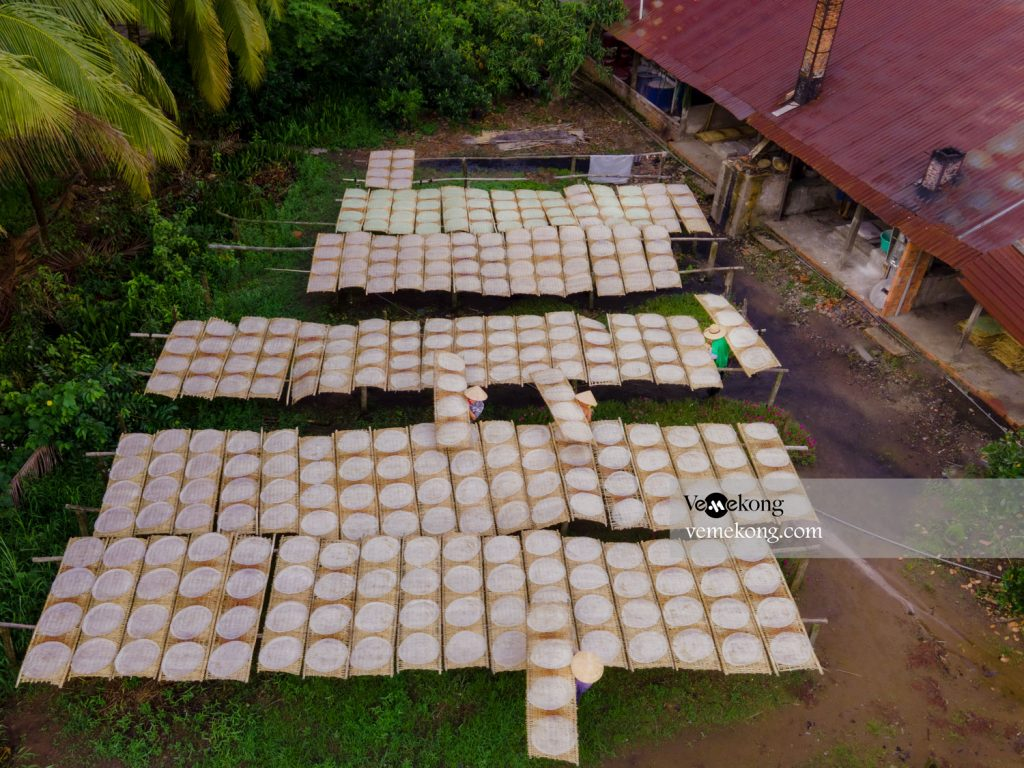 (Source: vemekong.com)
The best way to see this place is by boat, you should combine it with the Cai Rang floating market & rice noodle factory in your biking tour.
Address: Lo Vong Cung Street, An Binh Ward, Ninh Kieu District, Can Tho City. About 6,5km from Can Tho City center.
12. Can Tho Walking Bridge
If you get to Ninh Kieu wharf by night, it is time to see Can Tho walking bridge with 2 gigantic lotus flowers made of thousands of neon lights that brighten up the whole area. This is a great spot for taking pictures from Can Tho rooftop bar or just simply enjoying the great river view of Can Tho at night.
Address: Hai Ba Trung street, Ninh Kieu District, Can Tho City.
| | |
| --- | --- |
| | |
| (Source: canthotourism.vn) | |
For more attraction places in Can Tho, please visit some tourist webpage links below: